How does the dreamfire52 program work?
Selling Points
Our program has the following selling points as a true passive income program:
Make money while you work or sleep.
Start with as little as $200
No holding inventory. No selling products to your neighbors.
Proven track record that can be verified.
No network marketing.
Minimal time expenditure.
Diversification from stocks. (we can be up when stocks are down)
What is our goal?
Our goal is to provide a passive investment for the middle class which targets high returns on a consistent basis. We would like the investment to be affordable to almost anyone ($200 Minimum). The rich enjoy investments such as hedge funds or commercial real estate, but the middle class do not have a lot of great options aside from those who have a matching 401k. We want this investment to act independent of the stock market so the user can have greater diversity. We want this investment to be completely passive so that the user can make money while working or sleeping.
How does it work?
We specialize in FOREX or (Foreign Exhange) trading. FOREX is the largest market in the world and markets are open 24hrs per day and 6 days per week. While the benefits of FOREX trading are well known, what is not so well known is that most traders fail. It takes many years to learn how to trade the market and it is not easy money. With dreamfire52, an ordinary investor can trade like an experienced investory passively. Our program allows you to copy the trades of an experienced FOREX trader in their own accounts
automatically
. This technology is called "Copy Trading". Copy trading is not a typical signal service where a company sends you trading signals to buy or sell. Trading is much more than a black box. The vast majority of our trades are discretionary trades, not computer generated. It takes a lot of work and research to trade correctly. Our experienced host trader trades the main account. Please don't be intimidated by any of these terms. It is really pretty simple. When a trade is made, the trade is copied to all client accounts in the correct proportion. When we buy, you buy, when we sell, you sell. All of this happens
automatically
while the user works or sleeps.
Trading API
An API or application programming interface is the technology that allows us to copy host trades to our clients. We can access each account via and API token that your brokerage allows. While this sounds complicated, it is really not. When the host trader makes a trade to buy a FOREX pair, the trade is copied to all clients in proportion to the amount that they have in their accounts. Look at the example below: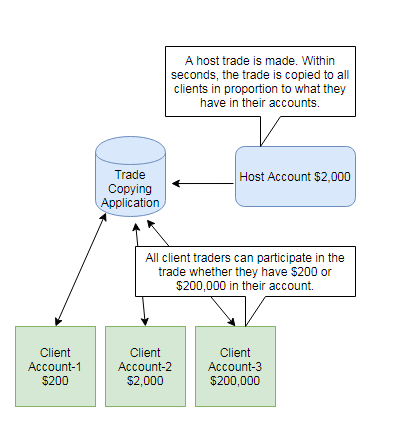 Your Own Account
dreamfire52 allows you to trade from your own brokerage account. Your money is not pooled together in some fund somewhere. You can turn the system on or off at any time and deposit or withdraw your money at any time. No one can access your money in your brokerage account accept you. The API token only allows us to trade the account. It does not allow us to withdraw. You maintain the password for your own account. We specifically wrote our trading tool for the OANDA V20 API platform so you must have an OANDA account to use this service. Fortunately, you can open an
OANDA account in minutes with a small amount
of money. We have no affiliation with OANDA. We simply like their platform, their fees, and their service. They have been around for a long time and have a good reputation. We also like the fact that they do not invest client funds like some brokerages do. We receive no incentive or kick-back for signing people up with OANDA.
Motivation (Win/Win)
The host trader is very motivated to succeed. Why? Not only is the host account his own money, he is also a client with several client accounts. This means that he makes a living trading from the same process you benefit from. There are no conflicts of interest. The only way our host traders can make money is to perform well.
True Passive Income
This system is a true passive system. Forex is a 24 hour market. Our traders eat, sleep, and breathe trading so that you don't have to. In fact, once you setup the system initially, you don't have to do anything else. All trades are automatic and you can literally make money while you sleep.
Results
dreamfire52 results are updated every 30 minutes and are posted
here.
In addition, we have an independent third-party verify our results
here.
but since you are trading from your own brokerage account, you can see your own results in your own account live at any moment 24/7. Our posted results include the broker trading fees and interest charges so that we are showing you real results. In addition to that transparancy, we allow our third-party verification to post EVERY single trade that we make. We started the host account with $2,000 to show that this program will work for both large and small accounts. In fact, you can get started for as little as $200. You can see every closed trade we have made, verified by MyFxBook by clicking on the chart below.
The "Double Your Money Challenge"
Our target is 50-100% annually. This is about 4-6% monthly. We cannot guarantee that we will do that, but that is our target. That is what we aim for. Our sizing and the amount of trades that we make is aimed at that end. In comparison, a typical stock market average gain over the long term is about 8%. This is why we believe the dreamfire52 program can be very valuable for ordinary investors.
Getting Started
Getting started is fast and easy. Follow these 3 simple steps to get started with a free 30 day trial period. You could be generating passive income starting today.
Create a dreamfire52 account. This takes less than 1 minute. No credit card necessary.
Create an OANDA trading account. You will likely need to supply OANDA with proof of identity.
Get the Account number and API Token from Oanda and put them into your dreamfire52 account settings, then turn auto trading on. The account number is found in the "Manage Funds" link after you login to your Oanda account. Then go to "Manage Account" up at the top. Then hit the "Manage API Access" link. After you generate an API token, cut and paste it to your dreamfire52 account. Finally, on your dreamfire52 settings, Select "Automatic Copy Trading is turned ON".
That is it! After this, your setup is complete and we will trade for you while you work or sleep.
Other Questions
If you have questions, first read our Common Questions and Answers document
found here
or watch the video below. If you have additional questions, feel free to contact us.
---