Questions and Answers Regarding Our Forex Copy Trading Platform and Passive Income Program
Why is this service valuable to you?
FOREX trading can be one of the most profitable enterprises a person can undertake. The potential is absolutely huge. The down side is that FOREX trading is difficult and time consuming. The overwhelming majority of traders who attempt it fail, but those who can get past the incredibly difficult learning curve can make huge profits. An experienced Forex trader can make more in a month than the stock market average rises typically in a year. Our service is more than just a Forex trading app. This program allows anyone to piggy-back off of our trades without having any experience. This is done through a process called Copy Trading or Mirror Trading. All of our results are posted every half hour and verified by a third party. We give personal, professional service and enjoy helping our clients make money or learn to trade. We do this without long term contracts so that we have to earn your money.
What are your results?
dreamfire52 results are automatically updated on the half hour and recorded daily. Since October 17th, 2021, we have gained
5.06%
for ourselves and our clients. Of course, future results cannot be determined solely by looking at past results. In addition to looking at results, you should also pay attention to other factors such as style of trading, risks vs rewards etc.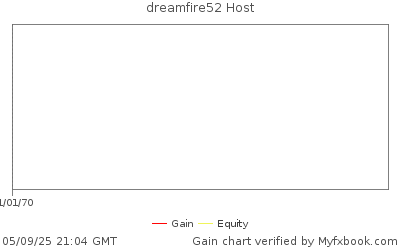 How much money do I need to use your services?
You need a minimum of $200 in your brokerage account to use our system. Why $200? We want to make sure you have a chance at making some money. With our $2 monthly fee, We target about 4-6% per month. Sometimes we get more. You will need to make about $8-12 to make this system worth it for you. This should be do-able with around $200. $300-$500 is even better. The fee system is tiered so that small accounts can make a passive income too.


How do I get started?
Follow these 3 simple steps to get started and you could be generating passive income starting today.
Create a dreamfire52 account. This takes less than 1 minute. No credit card necessary.
Create an OANDA trading account. You will likely need to supply OANDA with proof of identity. We recommend you open the account in U.S Dollars. Oanda allows you to open up accounts in a variety of currencies.
Get the Account number and API Token from Oanda and put them into your dreamfire52 account settings, then turn auto trading on. The account number is found in the "Manage Funds" link after you login to your Oanda account. Then go to "Manage Account" up at the top. Then hit the "Manage API Access" link. After you generate an API token, cut and paste it to your dreamfire52 account. Finally, on your dreamfire52 settings, Select "Automatic Copy Trading is turned ON".
That is it! After this, your setup is complete and we will trade for you while you work or sleep.
How can I independently verify your results?
When we tell people about our average monthly percentage gains, occasionally they don't believe us. Many people are taught to believe that anything over 15% annually is too good to be true. The good thing about our program is you will be trading in your own account with a broker that we are not affiliated with. You can verify your balance at any time in real time. OANDA offers a host of platforms including a mobile app that you can use to monitor your trades and balances. In addition, the host account is registered and publically verified at MyFXBook.com which is a third-party organization not affiliated with us or Oanda. You can
go to link to verify our track record
and see all the relevant statistics of the host account for the entire span since creation it on October 17th, 2021. Note that the daily percentages will vary from our results page as MyFXBook does not count open trades. They update every 4 minutes while we update our site about every half hour.
What is FOREX?
You can trade this system whether or not you know anything about the FOREX markets. But, we think you should at least know the basics. Here is a wiki link to get you started on FOREX basics. Be sure and come back once you familiarize yourself with the concepts.
What if I don't know anything about FOREX?
Our passive income program and forex trading app is for beginners and experts alike. Although you can sign up and trade our system with absolutely no experience, We caution everyone to know the possible risks and rewards of FOREX trading. We would prefer that you understand the basic concepts of leverage and risk so that you can better understand whether or not this is for you.
What is copy trading or mirror trading?
The concept of "Copy Trading" or "Mirror Trading" is not new. It has been around for over a decade. Copy Trading is a FOREX strategy that allows investors to copy the trades of experienced and successful FOREX investors. This type of trading was initially only available to institutional clients but was later made available to retail investors. There are many sites that provide mirror trading but you need to be careful. Many of these "opportunities" either charge by the trade or employ some other fee structure that is not beneficial for the client. Most employ computerized strategies and some use highly misleading martingale strategies which "work" for a period of time before losing big. We offer a more personal and flexible approach. Our job is to give you consistent returns year after year. Our fees are reasonable and we really enjoy trading for our clients or helping them to become successful traders on their own.
How much time do I need to spend on this program?
After the initial setup, trades occur automatically while you work or sleep. You don't need to do anything.
How much experience do you have trading FOREX?
Our host traders are very experienced. Mark started trading in 1999. At age 52, he has made about every trading mistake that there is to make, and that is exactly the type of experience that benefits you. By piggy backing on our trades, you don't have to make those mistakes. Whether you are a new or experienced trader, I'm happy to work on your behalf to find and execute the best trades possible. We post our results every single trading day on this site so that you can see for yourself.
What is your trading style?
We have written our share of computer automation software to try to trade the markets. Our opinion is that it is useful only to a certain point. We consider ourselves to be discretionary technical traders. We use various forms of computer automation to find entry and exit points, but we make the final decisions. In addition, we occasionally consult a small group of successful traders for ideas, but ultimately, it comes down to our decisions. Our decisions are based on many factors. We are generally short-term traders. We hold positions for hours, days, and sometimes weeks. This means that we are more apt to use price action and momentum rather than fundamentals for our trades unless those fundamentals apply in the near term. While we often add to our positions that are underwater, we only do so within a specified pre-planned area. I do not employ martingale or other destructive strategies. My goal is to achieve about 6% per month in an effort to double our money annually. We employ patience, confidence and discipline to all of my trading. We will have losing days, weeks, and occasionally months, but we expect it to be rare to have a losing quarter. This is not a magic bullet. Patience is required for all who trade FOREX including mirror traders.""


What do I need to get started?
If you wish to move forward, you need to open an OANDA trading account. My software only runs through OANDA. Why OANDA? I have used many different brokers and I prefer OANDA for reliability and pricing. Their service is pretty good and I like the fact that they cannot invest customer funds. I am not associated with OANDA in any way and do not get any type of kick back if you open an account. When you are ready, you can literally sign up in minutes. Here is the link:
OANDA sign up
. I suggest that you have at least $200 in this account, but if you want to use less for the trial period that is fine. After your OANDA account is setup, sign up for the free trial
here »
You will be directed to supply us with the API-Token from your new OANDA account. After we test the API token, we will turn on the system. That is all there is to it. The entire process is fast and easy and you could literally be trading today!
Can I use my broker instead of OANDA?
No. We specifically wrote our software for the OANDA V20 API platform so you must have an OANDA account to use my service. Fortunately, you can open an OANDA account in minutes with a small amount of money. We have no affiliation with OANDA. We simply like their platform, their fees, and their service. They have been around for a long time and have a good reputation. We also like the fact that they do not invest client funds like some brokerages do.


What is your fee structure?
We have a "pay as you go" structure. This means that you pay for each month ahead of time and are under no obligation to continue when the month expires. You may un-hook from my system and any time for any reason nearly instantly. If you don't make money, we know you won't stick around. Our fees are tiered so that both large and small traders can profit from the system. Our job is to make the system profitable enough so that you are more than happy to pay our monthly fee.
Will I make the same percentage as the host account?
There is a slight delay on the client trades so that your entry and exit points will not be exactly the same as the host account. You may make more or less than the host account.


Can I use that account to make my own trades?
No, it is not recommended, however, OANDA makes it easy to create sub-accounts within an account. If you want to do your own trading and also use my system, the best way is to simply create an OANDA sub-account and trade it as you like while I trade the other sub-account with my system. This is a great feature that OANDA has to create as many sub-accounts as you want. For those of you who like to do your own trading, this is a great option.


Do you hold my money or does OANDA?
Your OANDA account is your own account. We cannot make deposits or withdrawals into your account. We cannot change your personal information. The API-token allows my system to trade the account, nothing more. You can revoke the token at any time and we will no longer be able to trade your account. For more details on how the Oanda V20 REST API works.
Click Here
. You can trade your OANDA account with or without my system. OANDA is the custodian of the money.
See their site for details.
If you want to make a withdrawal, you simply go on their site and make the withdrawal. We have found that it usually takes only a few days by debit card. We are not affiliated with OANDA in any way. Before withdrawing your money turn off the dreamfire52 automatic trading because OANDA requires that trades be closed before a withdrawl can be made.
How do I pay my taxes on my gains?
There is plenty of information available on the web regarding this topic, but we are NOT tax specialists so we cannot advise you on how to declare this income. We will only summarize our understanding as follows: Similar to stocks, in the U.S. and other countries, taxes must be paid annually on currency gains. These gains are generally considered a short term capital gain but in most circumstances you can have a 60/40 mix of Long vs short term capital gains. According to wikipedia - "This is the most common way that forex traders file forex profits. Under this tax treatment, 60% of total capital gains are taxed at 15% and the remaining 40% of total capital gains are taxed at your current income tax bracket, which could currently be as high as 35%." The nice thing is that currently you do not need to report every trade as is done with stocks. That would be very cumbersome. You are only required to record the total gain or loss during the year. This number can be found on the reports provided by OANDA on their web site. You will not be sent a 1099 form in most cases for currency trading. Login to OANDAs web site to view available reports and statements. We record the number using Turbo-Tax for our own taxes. Others that we know send their information to a licensed CPA. You will need to do your own research or consult a licensed CPA for further information with regards to taxes.


How do I deposit/withdraw money from my account?
Simply log in to your OANDA account and follow the directions to withdraw or deposit. Note that you must close all of your positions before withdrawing your money. You should also turn the system off until the money has been withdrawn to avoid opening new positions. In our experience with Oanda, it usually takes a few days for the money to appear in my checking account once a withdrawl is made via debit card. You can view the status of the withdrawl on Oanda's web site. We have found that deposits using a debit card are nearly instantaneous.


Can you guarantee a profit?
We wish we could, but there is no such thing as a guarantee when it comes to investing or trading. Trading is inherently unpredictable and it is not for everyone. Even for experienced traders, large losses are possible. In our opinion, you should not invest your entire net worth in FOREX.


Do you trade your own money?
Yes, first and foremost, we trade our money in the host account and we also have several client accounts. We also trade family and friends client accounts so we have a lot of skin in the game and are very motivated to succeed.


Why are you doing this?
We see this program as another way to leverage our trading and experience for another stream of income. In addition, we get real satisfaction out of creating a high-powered investment for the middle class. We enjoy helping others make money and teaching people how to trade correctly.


What are the cancelation rules?
We use a pay-as-you-go system on a monthly basis. You pay in advance for the month. Before your month expires you are free to subscribe again or let it expire. If your account expires, we will not open new trades. We will only close out existing trades that we opened. You can re-activate the account by making a payment. Your OANDA account is your own. You can keep that account open and trade with or without my system, or you can close it as desired. If you decide to turn off the system, you must make sure to close any existing open trades.


Are you a financial advisor?
No, We are not registered financial advisors. We are retail traders who have technology which allows our members to to mirror our trades for a monthly fee through a process called copy trading or mirror trading. Nothing more. We do not advise on types of investments you should be making. We do not advise on taxes. We do not advise on other types of investments. Our job is to trade the host account in the best manner that we can and allow clients to follow along if they want to.


What are your terms of use for this product?
The use of this technology and the web site is at your own risk, and you assume full responsibility and risk of loss that you may suffer as a result of using the technology offered on this site except to the extent that liability under any applicable law or regulation cannot be excluded, under no circumstances shall American Business Computing or its officers, directors, or employees be liable to you or any third party for loss or damage of any kind whatsoever arising from the use of this technology.

As explained on OANDA's web site, FOREX trading is inherently risky. Please be advised of those risks. American Business Computing and its subsidiaries including dreamfire52.com are not affiliated with OANDA in any way. We are not registered financial advisors and do not advise on tax matters or other investment related topics. American Business Computing and dreamfire52.com makes no guarantees that its users will profit from this program. Large losses are possible.


---